Zoidiasoft Technologies Astrology Software
News Headline
5-3-2013

The Terran Atlas has been updated with the Olson zone rules 2013b - 2013c and now includes access for windows developers who wish to use the Terran Atlas with other astrological / astronomical software.
2-21-2013

Martijn van Bemmel has created a new set of professional icons for Delphic Oracle in various sizes up to 256 x 256. This same design now replaces the (X) logo on the high resolution version of this website. Registered users can download now...
1-29-2013

Postal Rate Increases have forced shipping rate changes. In order to simplify ordering, the DVD video manual for Delphic Oracle is included free of charge when a DVD is sent to shipping address with a Delphic Oracle license. Rates can be found on the order page.
1-21-2013

Gauricus Monthly Revolutions and Solar Monthly Profections have been added to the Derived charts window in Delphic Oracle. These are based upon Ile Spasev's article on revolutions during the Renaissance. Related is the new Junctinus variation on annual divisions in both the time lord systems window and graphs.
2-23-2012

Project Hindsight has released the first installment of their Course for Hellenistic Astrology. This first section of the course has been fascinating and goes into great detail. Chris Brennan also has a class on interpreting time lords posted on his astrology blog. He is also managing a translation project for Hellenistic astrology. These sources will help you understand how to use Delphic Oracle software.
2-28-2011

The mysteries are encoded here using a composition style that hides secrets in plain sight. Take Exit 30 and pay close attention to detail. If you become lost, there is astrological software to guide you.
Updated Software Title and Description
3-6-2013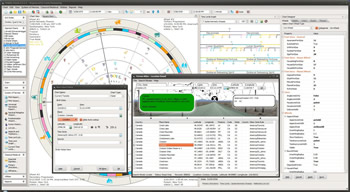 Delphic Oracle tm v 6.4: advanced research software. In addition to the basics that are included in most general purpose programs, this program contains various techniques from the Medieval and Hellenistic eras by such ancient authors as Valens, Antiochus, Rhetorius, Bonatti, Ptolemy, and many others. While the subject matter is sometimes devoted to ancient material, it is at the cutting edge of modern technology with capabilities such as hi-resolution printing, Acrobat file generation, an html web publishing tool, a transit/progression animator, an interactive graphic ephemeris showing heliacal rising and setting and user configurable time lord graphs saved as "themes", reports on countless techniques, a full set of delineations and uses the Swiss Ephemeris and the new Terran Atlas. It has advanced capabilities to cross reference various time lord systems, primary directions and phasis conditions to transits and progressions of various types simply by clicking on graphs and/or time lord listings using what I call "autogenerated charts". Recent additions to the program include a primary directions module capable of sorted and "themed" direction types, aspect and testimony lines based on the Antiochus aspect doctrine, a searchable chart database, a chart designer for configuring transits, progressions, directions, etc... It includes video tutorials and a full set of help files. It is the only program that includes Robert Schmidt's research into the "System of Hermes" and the only program endorsed by Project Hindsight.
3-6-2013



Timaeus tm v 8.2 Pro: horary and electional software. Timaeus is a system tray application that monitors natal charts by comparing them to current astrological conditions, creating a "daily horoscope forecast" in real time. Timaeus loads 2 glyphs / icons representing the current planetary hour and the current rising sign into your system tray, shows the current ascendant and midheaven positions in popup hints, allows user defined audio and visual alerts for any planet or degree of the zodiac approaching the angles, and allows you to create and display birth charts. Double clicking on the icon in your system tray can show a chart for the current sky in your location or bring up your daily horoscope... This program is especially useful to those interested in horary and electional astrology and now includes the Terran Atlas, printing capabilities and a new medieval module...
5-3-2013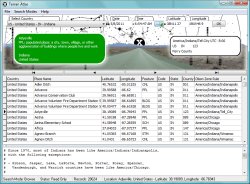 The Terran Atlas 2.0 time zone database now has over 13 million records of city, latitude and longitude information for 250 countries, making it the largest database in the field. It has taken a step in the direction of Google Maps by differentiating between places of different types. You can still type in the name of a city such as "San Francisco, California" or if you aren't sure of the spelling you can place an asterisk in the place name; but place names can be of mountains, lakes, schools, streams, deserts, forests, post offices, hotels, restaurants, churches, parks, dams, hospitals, cemeteries and so on. There are about 700 of these location type definitions included in the Terran Atlas. In the rare event that you can't find your location in the database, you can add it to the database, edit locations and delete as well. The Terran Atlas is a combination of 3 databases; the Geonames database, the Maxmind database and a personal database which I have been working on, all edited to fit the same format. There is a fair amount of overlap between these databases, so the actual number of unique locations is probably in the range of 8 - 10 million. The reason for this is that some locations go by different names or have different spellings for the same location. Even special characters such as the umlaut are included in these spellings. What makes this database unique is the combination of locations and time zone information which can be used for astronomical purposes... More...